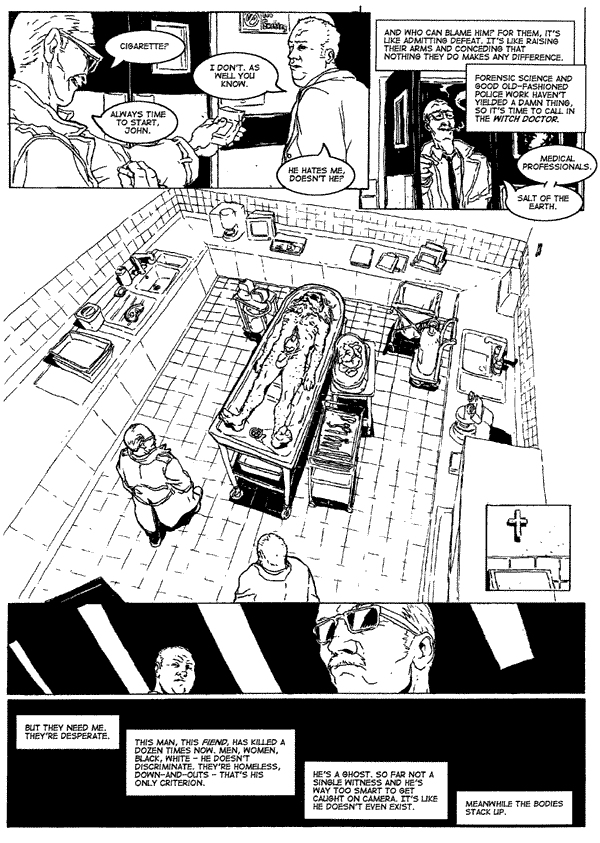 Seer © Script: Gary Simpson, Art: Lee O'Connor
Seer:
Script: Gary Simpson, Art: Lee O'Connor.
Links:
Mail:
Engine Comics
Behind a stylish, minimalist cover, the Seer of the title is Jonathan P, a man with clairvoyant powers who is drafted in by the dour DI Sloane to help find the murderer of several down-and-outs in contemporary Manchester. Unfortunately, Jonathan can only access his 'gift' by eating the eyeballs of the murder victim, and - as he does his thing - he only learns that the murderer is a man in what appears to be a horse mask. Until, that is, he spots a car registration number in one of his visions…
The main problem with this comic is that it's a big story that isn't given enough room. The characters are given no more depth than is absolutely necessary to make the paper-thin plot function. We get no real hint of the relationship between Jonathan and Sloane, no sense of what Jonathan gets up to when he's not munching eyeballs, and no insight into the mind of the murderer. Gary Simpson's scripting is competent enough on a panel-to-panel basis, although there's a bit of uncertainty over the tone, between moody-and-portentous and flippant-and-wisecracking. However, what plot there is generates no tension, with an absence of suspense or any cat-and-mouse manoeuvring between the detective and perpetrator. The murderer is apprehended with a bare minimum of detective work, and the 'twist' at the end of the tale is at a bit of a tangent to the main story. The set-up for the twist – a development that should be a key part of the narrative – is cursory in the extreme.
If the story is sketchy, so is Lee O'Connor's artwork. His 'camera-work' is sound, and his approach is ambitious, but his draughtsmanship – especially his facial expressions - ultimately seems to lack confidence. In fact, the character studies included in the 'Sketchbook' section are considerably more assured and emotive than the portrayals in the story itself. The final effect isn't helped by some strange lettering placements; at the dramatic climax of one of the chapters, the TV and sofa seem to be exchanging dialogue.
Seer is an attractively designed and ambitious comic, which falls short mainly because it puts itself up against the best of the mainstream – in approach and subject matter – and can't help but come off badly. Using psychic gifts to track down a serial killer, and the sub-plot that powers the twist, are stories that require a much broader canvas than is offered here in 23 pages.
Tom Murphy.